Support OCP
OPEN THE CURTAIN… CONSIDER YOUR PART… PLAY A LEADING ROLE… OUR FRIENDS MAKE THE DIFFERENCE!
Won't YOU Join Our Family of Friends? Every Gift Matters!




2018-2019 Expenses & Income

Fiscal Year JULY 1 - JUNE 30
Donations help close the gap between expenses and income. They are not used for high administrative costs but to present the finest professional touring productions that enrich, entertain, and inspire our citizens and encourage our youth to learn and grow.
Individuals, Businesses, and Foundations support OCP with monetary gifts, by purchasing ads in the Playbill, or by offering in-kind donations. 38 dedicated volunteers sold 222 ads to area businesses (who support the quality of life where we all live, work & play)! Please call the office if you are interested in advertising in the Playbill.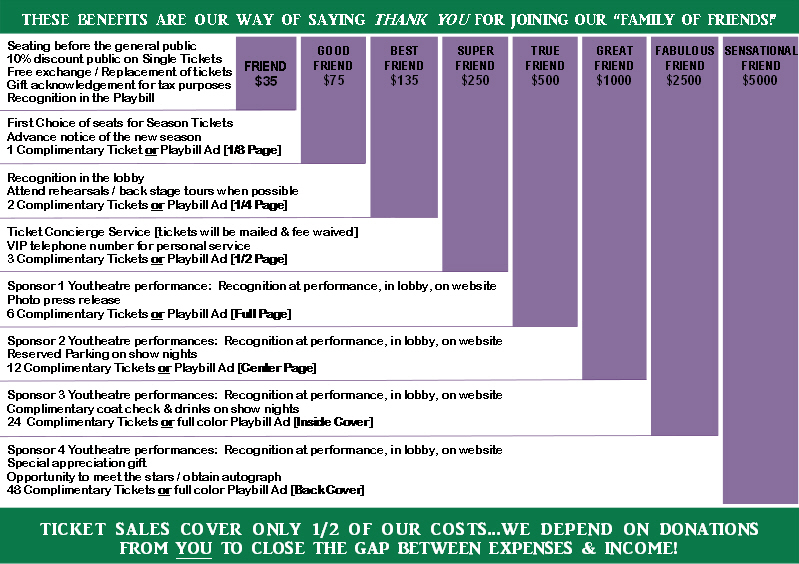 To show your support for OCP and help fulfull its Mission send a check, payable to:
OCP, to 1100 State Street, Ogdensburg NY 13669
2019-2020 FAMILY OF FRIENDS
SENSATIONAL FRIENDS ($5,000+)
7 News-Fox 28 TV* • New York State Council on the Arts • Sweetgrass Foundation
FABULOUS FRIENDS ($2,500-$4,999)
Gus & Bev Becker • Dr Manuel & Sally Palao • Henderson Printing* • Stewart's Shops Foundation • Windjammer Lodge*
GREAT FRIENDS ($1,000-$2,499)
Dr. Ravinder & Barbara Agarwal • America 1 Realty • Corning Foundation • Donaldson Funeral Home • NYS Correctional Officers & Police Benevolent Association • North Country Savings Bank • John Parcell CPA* • Price Chopper/Golub Corporation • Rhonda Roethel • St. Lawrence County Youth Bureau • St. Lawrence Health System
TRUE FRIENDS ($500-$999)
Patricia E. Bell • Claxton Hepburn Medical Center • DeFelsko Inspection Instruments • Erin Meyer Real Estate • Linda Griffin & Tom Patterson • Heritage Homes • Mort Backus & Sons • Claudia Moulton • North Country This Week* • NNY Newspapers* • Ogdensburg Education Association • Pat Collins Real Estate • Pepsi Cola Ogdensburg Bottlers • Phillips Memorial Home • Roman Catholic Diocese of Ogdensburg • St. John's Episcopal Church • St. Lawrence Federal Credit Union • Nancy Skiff • The Thousand Island Cruet • United Helpers Management Co. • Cynthia & Richard Wilson
* In-Kind
Tax exempt status was granted pursuant to Section 501 (c) (3) of the Internal Revenue Code ~ Federal ID Number 16-1145566.
OCP was incorporated in New York State in 1991 ~ State ID Number 209188.
A copy of the last financial statement filed with the NYS Department of State may be obtained by writing to OCP.